I can't believe it! I got Honorable Mention over on The Play Date Cafe for last week's challenge! Be sure and check out the other winners and this week's challenge. It's a doozy!
And got this award: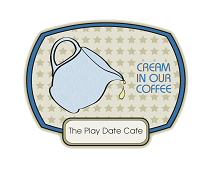 I hope it doesn't effect my award but I don't even drink coffee!!!
SHHH! Don't tell them!
Have a great crafting day!