I found this fun website: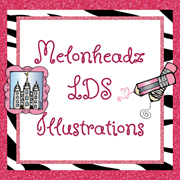 Even though her website it prodominately LDS (The Church of Jesus Christ of Latter-Day Saints) her images can be used for many different things. Plus, they are SUPER CUTE and FREE!!!
Also, check our her other blog for another freebie! From there you can take a peek at her Etsy Shop! CUTE! CUTE! CUTE!
Be sure and tell her Laurie from Hiding in My Craft Room sent ya! :)
Enjoy your new FREEBIES!!!