It might seem like it's been a quiet week here but that is the furthest from the truth!
I have a son who is turning 10 today and having a birthday party that I have been working on party favor bags, invitations (that was actually last week or so), game, treat tags, ect. I will be sharing it all later this week. So yeah, life has been busy! Plus, with my husband out of the country I find that I don't have as much time. You might think the opposite would be true and honestly I thought it would be like that too but it's not!! I had such grand plans (as usual) of things I would get done while he's gone and maybe things will settle down but with all the holidays coming up ...... yeah, probably not going to happen!! dang!
Anyway, speaking of Holidays coming up! It's a fourth Saturday so you know what that means!
The challenge is:
HIMCR #222 - Any Holiday!
It can be literally ANY Holiday! So have fun, get caught up or get ahead!
The sponsor is My Besties!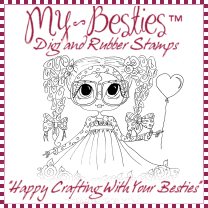 The giveaway is all 5 images used by the HIMCR Design Team!
Be sure and check out there blogs to see them and their creations!!
You have until Saturday, October 31th at 2AM Central time, to link up your creation to get entered into the giveaway this week. When uploading to online galleries please use code HIMCR222.

Now some inspiration from the
Hiding in My Craft Room Design Team
You can see the HIMCR schedule of challenges and guidelines HERE! Please be sure and follow the few easy guidelines so your creation will get entered into the giveaway!
Thanks so much for visiting today!
We can't wait to see what you come up!