I'm a day late so I'll be quick! We decided to keep the kids home yesterday from school! We had such a fun day! They each got to talk to their dad, who is deployed and can only call at certain times usually while they are at school or asleep. Then we went to McDonald's playland for lunch and ice cream!! Stopped by the park for a bit then home for dinner and to watch Inside Out! What a cute movie! May we always be like Joy and see the bright side of things, even during the sad or hard times.
On with the winner!!!
HIMCR #222 - Any Holiday!
It can be literally ANY Holiday! So have fun, get caught up or get ahead!
The sponsor is My Besties!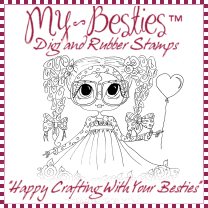 Congratulations Mary! Please use the 'Contact Me' button before next Wednesday to send me your email and claim your prize.
Thanks so much for all the great entries! And a big thank you to My Besties for sponsoring our HIMCR challenge!