Happy whatever today is! Lol!!!
This week was just crazy but absolutely wonderful and I didn't get the challenge posted on Saturday. I hope everyone had as GREAT a Christmas as we had! I was planning to have a 12 days of Christmas giveaway and after doing some research on when the 12 Days of Christmas actually are was going to start on Christmas Day. Well, that was a bad idea with a house full of guests. So I'm going to have a 12 days of 2016 giveaway! :) Be looking for that!!! And be sure and let's your friends know! On with the challenge:
HIMCR #231- Freestyle!

So anything goes! Thank goodness!!! Don't we need a break from any restrictions!?!
The sponsor is My Besties!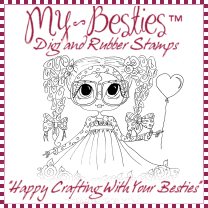 The giveaway is ALL 5 My Besties digital images used by HIMCR Design Team! Be sure and check their blogs out!
You have until Saturday, January 2nd at 2AM Central time, to link up your creation to get entered into the giveaway this week. When uploading to online galleries please use code HIMCR231.
Now some inspiration from the
Hiding in My Craft Room Design Team

You can see the HIMCR schedule of challenges and guidelines HERE! Please be sure and follow the few easy guidelines so your creation will get entered into the giveaway!
Thanks so much for visiting today!
We can't wait to see what you come up!