We were having internet issues yesterday along with our dog darting out our front door at some our neighbors dogs. She's been acting more protective since my husband's deployment. So I didn't get anything posted yesterday. Not our HIMCR winner and not our 2016 New Year kickoff giveaway! I've decided instead of trying to play catch up I'm going to post a new giveaway tonight as scheduled but will be posting giveaway #12 on January 13th! Hey, it's lucky! :)
On with our HIMCR Winner!!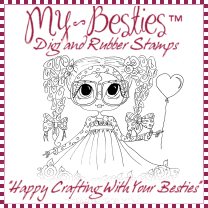 The giveaway is ALL 5 My Besties digital images used by HIMCR Design Team!
Congrats to our HIMCR winner this week, Hazel! Please use the 'Contact Me' button before next Wednesday Thursday to send me your email and claim your prize.
Thank you to everyone for all the great entries! And thanks so much to
My Besties
for sponsoring our HIMCR challenge!