HAPPY SATURDAY!
It's good to be home and it's GREAT to have my husband home after over 4 months of being apart!!
I know this challenge might not seem appropriate at this time but I thought it would be fun and maybe a little 'out of the box'! It's the first Satruday of the month so it's a color challenge and instead of giving you a choice of colors this time we decided to limit a couple of colors!
The challenge is:
HIMCR #237 - No Pinks or Reds!
So you can use ANY colors you wish except for Pinks or Reds! Perfect for a challenge close to Valentine's day, huh? Have fun!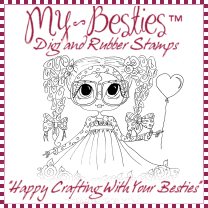 The giveaway is all 3
My Besties
images used by HIMCR Design Team!
You have until Saturday, February 13th at 2AM Central time, to link up your creation to get entered into the giveaway this week. When uploading to online galleries please use code HIMCR237.
Now some inspiration from the
Hiding in My Craft Room Design Team
You can see the HIMCR schedule of challenges and guidelines HERE! Please be sure and follow the few easy guidelines so your creation will get entered into the giveaway!
Thanks so much for visiting today!
We can't wait to see what you come up!
Also, don't forget we have a HIMCR Design Team call going on right now! We like to work with fun crafty people! Because that's what we are! LOL!! :)