We are finally home AGAIN! And hopefully we will ALL be home for a while. I know I'm behind on some things here on HIMCR but I'll be working on getting things caught up over the next few days and weekend. Thanks for all your support and kind words! I wish I would have had time to reply to each and every one of you. Your comments have been so uplifting and supportive!
It's Wednesday! So it's time to announce our HIMCR weekend challenge winner!
HIMCR #237 - No Pinks or Reds!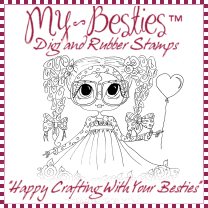 The giveaway is all 3 My Besties images used by HIMCR Design Team!
Congrats to our HIMCR winner this week, Treva! Please use the 'Contact Me' button before next Wednesday to send me your email and claim your prize.
Thank you to everyone for all the great entries! And thanks so much to
My Besties
for sponsoring our HIMCR challenge!