My kids are out of school this entire week! So much for planning on getting caught up on everything! Other schools I've heard, including where my daughter teaches, went back to school today or even yesterday. I wish we had had more time off before Christmas instead of all this time off after. It's weird!
My kids will eventually be back at school! I will miss them but I just can't get things done when they are all here! So ...... Hang in there with me if you have waiting for a correcspondence from me!
On with this week's winner!
Challenge recap first:
HIMCR #281 - Any Holiday!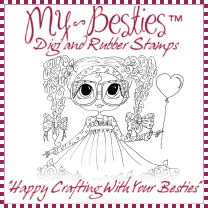 The giveaway is all 3
My Besties
images used by HIMCR Design Team!
And the winner is ......
Congrats to our HIMCR winner this week, Ria! Usually I would have you use the 'Contact Me' button located at the top of the page but for some reason my header menu has disappeared and I still haven't figured out why or how to fix it! Until then please message me through our HIMCR facebook page before next Wednesday to send me your email and claim your prize. Please put the challenge number and prize in subject of message. I have time set aside on Thursdays to respond to emails! However, give me a few extra days the holidays kicked my butt and I'm super behind on EVERYTHING! Thanks!
Thank you to everyone for all the great entries! And thanks so much to
My Besties
for sponsoring our HIMCR challenge!