I can't believe it's already another Wednesday and time to announce another HIMCR winnner!
If I haven't contacted you weather you're a winner or just have a quiestion please be patient. I've had sick kiddos and my husband is deployed so I'm waaaaaaay behind in my correspondents. And sadly, crafting? What's that? And what I have created I haven't had time to post! :(
But I still get to announce a HIMCR winner and that's make me happy! I love giving stuff away!
First a quick challenge recap:
HIMCR #296 - Super Scraps Saturday!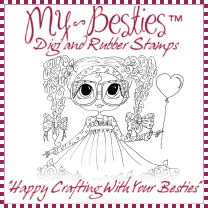 used by the HIMCR Design Team
Congrats to our HIMCR winner this week, Elizabeth! Please message me through our HIMCR facebook page before next Wednesday to send me your email and claim your prize. Please put the challenge number and prize in subject of message. I have time set aside on Thursdays to respond to emails! My schedule has gotten even tighter so please be patient. I usually do not have time to check my email / messages until Thursday.
Thank you to everyone for all the great entries! And thanks so much to
My Besties
for sponsoring our HIMCR challenge!