I hope everyone had a fabulous Thanksgving! We did! My daughter and her husband were able to come and we were able to take my newly 12 year old son to the Temple for the very first time while they were here.
However, even though we had a GREAT time my oldest daughter who was here visiting got sick and sadly a couple of the other kids did as well, yesterday it made its round to me! I am feeling much better now but still don't have my voice back which my kids are probably secretly very happy about! So that is why I'm just now getting our HIMCR challenge posted!
Probably everyone was too busy visiting family, eating leftovers, shopping, and recooperating from all the cooking and eating anyway! :)
It's a 4th weekend so the challenge is:
HIMCR #328 - Any Holiday!
As always, this Holiday creation can be past, present or future but as for me and my house we need to be working on Christmas projects! Lol!
We can't wait to see what Holiday you decide to work on!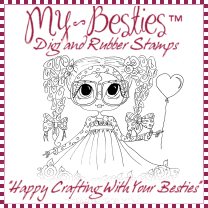 The giveaway is the My Besties images used by the HIMCR Design Team!
You have until Saturday, December 2nd at 2AM Central time, to link up your creation to get entered into the giveaway this week. When uploading to online galleries please use code HIMCR328.

Now some inspiration from the
Hiding in My Craft Room Design Team
You can see the HIMCR schedule of challenges and guidelines HERE! Please be sure and follow the few easy guidelines so your creation will get entered into the giveaway!
Thanks so much for visiting today!
We can't wait to see what you come up!