Let's get 2018 challenges started! Woohoo!
The challenge this week is:
HIMCR #334 - Your Favorite Colors! Pick 3!
All you have to do to qualify for this challenge is use 3 different colors! Pick your favorites!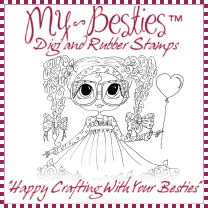 The giveaway is
3 images from My Besties - winner's choice!
You have until Saturday, January 13th at 2AM Central time, to link up your creation to get entered into the giveaway this week. When uploading to online galleries please use code HIMCR334

Now some inspiration from the
Hiding in My Craft Room Design Team
My Besties image called Sweet Treats. My 3 favorite colors are purple, bubblegum pink, and magenta pink.
You can see the HIMCR schedule of challenges and guidelines HERE! Please be sure and follow the few easy guidelines so your creation will get entered into the giveaway!
Thanks so much for visiting today!
We can't wait to see what your favorite colors are and what you do with them!